10. Entering the Marketplace with Helping Hands
The gate of his cottage is closed and even the wisest cannot find him. His mental panorama has finally disappeared. He goes his own way, making no attempt to follow the steps of earlier sages. Carrying a gourd, he strolls into the market; leaning on his staff, he returns home. He leads innkeepers and fishmongers in the Way of the Buddha.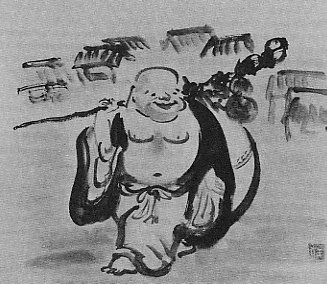 Barechested, barefooted, he comes into the marketplace.
Muddied and dust-covered, how broadly he grins!
Without recourse to mystic powers,
withered trees he swiftly brings to bloom.
Previous