Stallion of a Frozen Lake:
Love Songs of the Sixth Dalai Lama
Translated by Coleman Barks.
Copyright 1992 by Coleman Barks.
Available from Maypop Books 800-682-8637 or amazon.com.
Reprinted with permission.
These are several songs from the Sixth Dalai Lama, Rigdzin Tsangyang Gyatso. He gave back his monk's vows, and lived the life of a naljorpa, a Tibetan Buddha. Haunting and lovely poems.






If I could meditate as deeply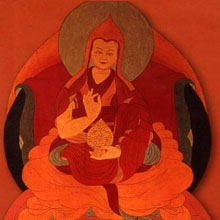 on the sacred texts as I do
on you, I would clearly be
enlightened in this lifetime!






The old dog at the gate
has a more subtle soul
than most human beings.

Please don't tell them
how I left at dusk
and came back in at dawn!






Lover waiting in my bed
to give me your soft, sweet body,
do you mean well?
What will you take off me,
besides my clothes?






The battering wings of this eagle!
The wind and the difficult rocks.
Those who oppose me
never let up.






Oracle of the Tenth Stage,
Dorje Chokyang, if you have power,
destroy those who hate the natural law.






She puts on her hat and leaves,
slinging her hair back,
waving goodbye.

"I'm sad that you're going."
I say. "Don't feel sad, my love,"
she said, "Every going-away
brings a coming-together."